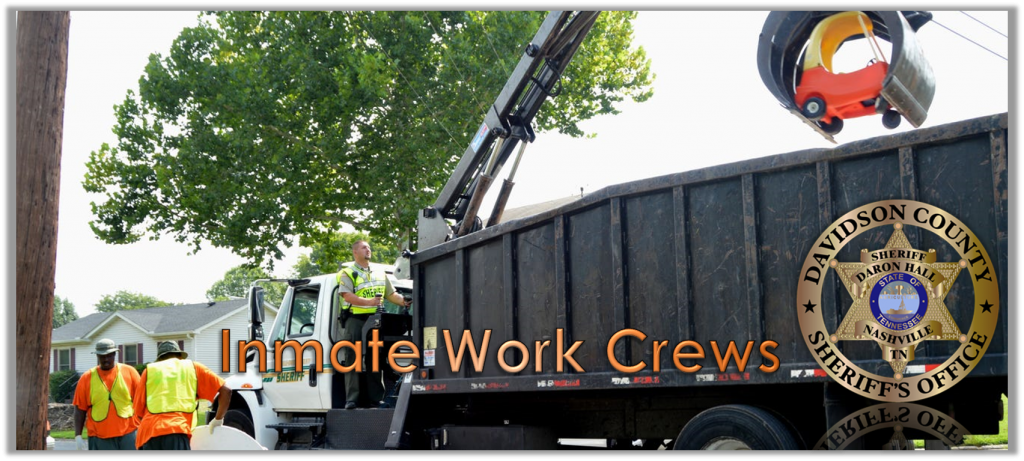 "The heart of our Correctional Services Center is the labor we provide to the Nashville Community through our Correctional Services Division. Our inmate labor crews save taxpayers and non-profits over $1.5 million annually. Additionally, our hope is to teach inmates valuable vocational tools that will assist them upon release. We must not forget other services provided by the CSD such as maintenance, laundry, warehouse, and fleet management. Without these important contributions, the Sheriff's Office would cease to operate." -Sheriff Daron Hall
The Correctional Services Division provides a variety of services via inmate labor throughout Davidson County. In addition, it provides limited services to Metro agencies and non-profit organizations. With a limited budget and resources, this division in fiscal year 2011-12 made a great impact on the community.
Some of the things that inmate work crews might be utilized for include:
lawn-mowing for certain metro agencies and every median in Davidson County;
litter removal from public streets and rights-of-way;
laundry services DCSO facilities, saving money by using female inmate labor;
set-up and tear-down of tables, chairs, tents, etc., as well as clean-up after many public events, such as the Tennessee Special Olympics, the TSU African Street Festival, St. Lawrence Picnic, Habitat for Humanity;
assisting with special projects including the Tennessee Special Olympics, Donelson Senior Center, The Hermitage, Music City Marathon, etc;
small renovation and demolition projects for non-profit entities
If your organization has work to be done and you would like to know whether Correctional Services inmates could be used and are available, please call Correctional Services at 615-880-3897.