Chief Deputy John L. Ford III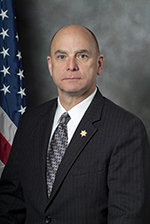 In 1975, John Ford began his career with the United States Marine Corps and was soon assigned to the U.S. Naval Brig in Philadelphia, PA, as a corrections specialist. Throughout the years, John's numerous assignments took him to eight different states and Japan. In June 1993, he began a dual role when he assumed command of the Marine Corps Detachment at Lackland Air Force Base, while also serving as Director of the Naval Corrections Academy in San Antonio, TX. After 22 years in military service, Ford retired as a chief warrant officer 3.
Soon after his retirement in 1997, Ford moved to Nashville and joined the Davidson County Sheriff's Office as assistant administrator of the Criminal Justice Center. Five years later, he assumed the role of Chief Deputy, and oversees the day-to-day operations of several divisions to include Special Operations, Investigations, Correctional Services, Armed Services, Standards, Treatment, Security and Community Engagement.
Ford has a master's degree in business administration from Florida's Saint Leo University and a bachelor's degree from Missouri's Park University. Additionally, he is a member of the American Correctional Association (ACA), American Jail Association (AJA), National Sheriff's Association (NSA), Tennessee Sheriff's Association (TSA) and the North American Association of Wardens and Superintendents (NAAWS). An ACA accreditation auditor since 1997, Ford's professional designations include ACA's Certified Correctional Executive, AJA's Certified Jail Manager, graduate of the National Institute of Corrections Executive Excellence Program and graduate of the Homeland Security Leadership Academy.
He and his wife, Sandy, have three children and four grandchildren.
---
Chief of Administration John Hudson
Prior to joining the Davidson County Sheriff's Office in 2002, John Hudson worked for 13 years in the private sector for four different Fortune 500 companies: Texas Instruments, Data General, EMC, and Storage Technologies. His marketing and management roles with these companies took him to various locations across the country including Dallas, Texas; Atlanta, Georgia; Huntsville, Alabama; and finally, Nashville. This experience gave him a good foundation in understanding both the business side of an organization as well as the support services related to operations.
John started his work in the public sector fifteen years ago as the DCSO Chief of Administration. His responsibilities include managing and overseeing Human Resources, Finance, Technology, Legal, Training, and Records Divisions of the Sheriff's Office. He is also tasked with overseeing and working with Metro Government officials in the development and implementation of DCSO's annual budget and contracts with DCSO vendors.
John is a member of the American Correctional Association and a board member of Sertoma of Nashville. He earned a bachelor's degree in Computer Science from Western Kentucky University and a master's degree in Business Administration from the University of Tennessee at Knoxville.
---
Chief of Corrections Tony M. Wilkes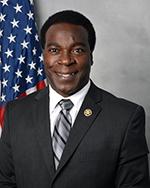 Tony Wilkes began his Davidson County Sheriff's Office (DCSO) career in 1987 as a Correctional Officer assigned to the Workhouse (currently known as the Jerry Newson Center). In 1991, he transferred to the Criminal Justice Center where he worked in master control until 1994. He was then promoted to an Administrative Services Officer at the CJC, and two years later he became the CJC Chief of Security. In 2002, Tony transferred to the Correctional Work Center, now Correctional Development Center, as Chief of Security, and was later appointed Administrator of that institution. In 2006, Tony became DCSO's first-ever Site Administrator for the Sheriff's Correctional Complex overseeing the management and administrative duties associated with operating multiple stand-alone correctional institutions. In 2008, Tony was named DCSO's first-ever Chief of Corrections, which he is responsible the administrative and operational management of five stand-alone institutions.
Tony attended Nashville State Technical Institute majoring in computer programming and data processing. He has an Associates of Arts in Business Management and a Bachelors of Science in Business Management through the University of Phoenix. He is an American Jail Association (AJA) Certified Jail Manager, National Institute of Corrections (NIC) Executive Excellence graduate, a NIC Training Consultant, and represents the Davidson County Sheriff's Office on NIC's national Large Jail Networking committee.
As a member of the American Corrections Association (ACA), Tony serves as a committee member to the ACA Adult Local Detention, Staff Safety, and Civil Detention committees; and the subcommittee that review and update the ACA Health Care Performance-Based Standards for jails. In addition, in 2012, Tony served as an ACA training consultant in the United Arab Emirates (UAE) for the Abu Dhabi and Dubai prison system.
Tony is preparing to become a Certified Corrections Executive with the American Corrections Association, which is recognized nationally in the field of corrections.
In addition, he serves on the Kaplan Career Institute Advisory Board and Meharry Community Wellness Center Advisory Board in the Nashville, Tennessee community.
---
Chief Warrant Officer John Taylor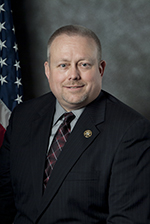 John Taylor started his career with the Davidson County Sheriff's Office in 1986. In his 26th year with the DCSO, he has worked in nearly all areas including jail facilities, Civil Warrants Division, Director of Correctional Services Division, and Administration. In 2002, he was appointed as the agency's first Chief of Staff overseeing the Civil Warrants Division, Correctional Services Division (which includes maintenance, laundry, and warehouse), Fleet Division, Community Outreach/Community Relations and SAAFE programs. John currently serves as Chief Warrant Officer and in addition works as the agency's State Legislative and Metro Council Liaison, is a member of the Domestic Violence Death Review Team, and is President of the Tennessee Warrant Officer's Association.
John is a native Nashvillian, graduated from Battle Ground Academy and Middle Tennessee State University (MTSU) where he received his bachelor's degree in Criminal Justice Administration and his associate's degree in Law Enforcement. He attended Nashville School of Law and completed graduate work at Tennessee State University and MTSU.
His civic affiliations include Old Hickory Chamber of Commerce and Leadership Donelson Hermitage where he serves on the Board of Directors as the Immediate Past President. He is a founding member of the Donelson Hermitage Evening Exchange Club where he serves on the Board of Directors. John's other board appointments include Fifty Forward and Exchange Club Family Center (which works to prevent child abuse and neglect). He is the Immediate Past President for the Donelson-Hermitage Chamber of Commerce. He is also the Past President of the Harborview Homeowners' Association.
---
Chief of Staff/Communications Karla West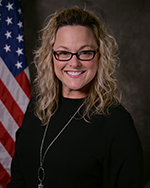 Karla West began her communications career as Assistant Press Secretary to former Tennessee Governor Ned McWherter. While working in the Governor's Office, she coordinated news from 21 state agencies and also served as the Deputy Broadcast Information Officer for the statewide radio news feed. Months later, she was appointed as the Tennessee Department of Safety's Public Information Officer.
Karla joined the Davidson County Sheriff's Office in 1994 as Director of Communications and was named Chief of Staff/Communications in 2018. She is responsible for all media, employee, and public communications including oversight of the agency's internal/external websites as well as social media platforms. Karla serves on Sheriff Daron Hall's executive management team and is involved with daily policy decisions and advisement.
Over the years, Karla has traveled the country as an instructor in media and public relations for the National Institute of Corrections; working with the nation's prison and jail public information officers. Additionally, NIC's Large Jail Network has sought her media expertise to advise the country's corrections leaders. She served 10 years as the DCSO's Legislative Liaison, three years as Legislative Liaison for the Tennessee Warrant Officers' Association, and is a certified Tennessee Peace Officer Standard Training (POST) instructor. Karla's proactive public relations efforts earned an Apollo Award in 1999 by the Public Relations Society of America. Her corrections-related articles have been featured in the National Sheriffs' Association's Sheriff Magazine as well as the American Correctional Association's Corrections Today magazine.
Karla holds a bachelor's degree in Communications from Tennessee Technological University.