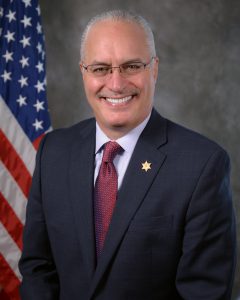 Daron Hall was sworn-in as the 61st sheriff of Davidson County September 2002 and elected to his fifth term in 2018. Upon conclusion of this term, he will be the longest serving sheriff in Metropolitan Nashville's history.
Hall has made arresting the problem, not the person, a focus; bringing programming, treatment, and community involvement to the inmate population. As a result, Davidson County has 50 percent fewer people incarcerated now than 10 years ago. Additionally, his efforts to decriminalize mental illness brought him national recognition when he opened the first-of its-kind Behavioral Care Center in September 2020.
He served as the 101st president of the American Correctional Association (ACA) and also served as the 78th president of the National Sheriffs' Association, the only sheriff in the country to ever hold both positions. Hall has a list of recognitions including Nashville Prevention Partnership's Lifetime Achievement Award, the National Alliance on Mental Illness (NAMI) "Sam Cochran" Award, the Dismas House "Jack Hickey" Award, and the prestigious E. R. Cass award – the highest honor given in the corrections profession.
After 30 years of criminal justice experience, Sheriff Hall is seen as an expert in his field. He has been interviewed by national and international media outlets including Fox News, the Wall Street Journal, the Canadian Broadcasting Corporation, NPR, the New York Times, CNN, and Fortune Magazine.