Sheriff Hall is arresting the problem of illiteracy and creating solutions to create productive citizens through education after release. The academic learning centers (CDM, MCC, CDF, DDC, and MSE) at the Davidson County Sheriff's Office offer Adult Education, Vocation and Post-Secondary Education. The education programs have defined goals and strategies that measure success. Students work on basic to advanced educational programs; such as beginning literacy, English as a Second Language (ESL), High School Equivalency Test (HiSET) program, vocational aptitude testing, Microsoft Office skills, Apprenticeship training and college courses. A diagnostic test is given to determine the level of each learner prior to starting classes. Materials are provided in Spanish and English.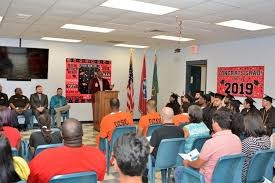 The academic learning centers primary focus is to offer participants who did not complete their traditional high school experience an opportunity to obtain a high school equivalency diploma. The HiSET program is compatible to the current professional development materials used for high school equivalency assessment and covers five core areas:
Language Arts – Reading
Language Arts – Writing
Mathematics
Science
Social Studies
The current HiSET exam is aligned to and measures the Office of Career, Technical and Adult Education (OCTAE) College and Career Readiness Standards. Classes are open to participants who request referral through their Case Manager's, instructors and/or community leaders. When they are prepared to take the official HiSET examination, extra sessions are provided. All of the Sheriff's Education Coordinators are well qualified. Each instructor has a bachelor's degree and correctional experience.
Community Based Integrated and Training Services

Metro South East – High School Equivalency Testing Site – Open to the Public
Our High School Equivalency Testing (HiSET) is open to the public. If you are a Davidson County resident interested in taking the HiSET exam, please contact:
Ms. Tiffany Manning
Metro Southeast – Day Reporting Center
1417 Murfreesboro Pike, Nashville, TN 37217
615-880-3898, ext. 74717
Tiffany.Manning@NashvilleSheriff.gov
Class Times:
Monday: 9 a.m. – 12 noon, 1 p.m. – 3 p.m., and 5 p.m. – 7:30 p.m.
Tuesday: 9 a.m. – 12 noon, 1 p.m. – 3 p.m., and 5 p.m. – 7:30 p.m.
Wednesday: 9 a.m. – 12 noon and 12:30 p.m. – 2:30 p.m.
Thursday: 9 a.m. – 12 noon and 12:30 p.m. – 2:30 p.m.
Friday: 9 a.m. – 11:00 p.m.
Saturday On-Line Class – Ms. Goulding (Students Referred by Ms. Manning)

10:00AM – 12:00PM Math
12:00PM – 2:00PM Reading, Writing, Social Studies, Science
Staff:
Education Supervisor:
David Zazworsky
615-862-8153
David.Zazworsky@NashvilleSheriff.gov
Director of Educational Services:
Sybil Pruitt
615-880-1950 or 01950
Sybil.Pruitt@NashvilleSheriff.gov
Nashville Sheriff's Education Coordinators:
DDC: Danny Jenkins; HiSET Instructor
615-880-3898 x76350
Danny.Jenkins@NashvilleSheriff.gov
DDC: Rita Evans; HiSET Instructor
615-880-3898 x76137
Rita.Evans@NashvilleSheriff.gov
DDC: William Bowen; Vocational Instructor
615-880-3898 x28191
William.Bowen@NashvilleSheriff.gov
MCC/CDF: Nojdar Shemssulldin; HiSET Instructor
615-880-3898 x76350
Nojdar.Shemssulldin@NashvilleSheriff.gov
MSE: Tiffany Manning; HiSET Instructor
615-880-3898 x74717
Tiffany.Manning@NashvilleSheriff.gov
CDM: Kinya Jamison; HiSET Instructor
615-880-3898 x76465
Kinya.Jamison@NashvilleSheriff.gov
Metro Nashville Public School System:
Department of Exceptional Education
M Denise Rollins
Supervisor
M.Rollins@mnps.org
615-479-9607
Annette Campbell
Homebound Services
Annette.Campbell@mnps.org