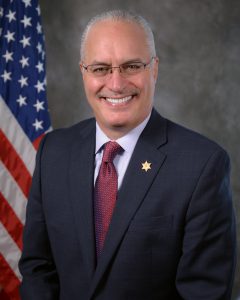 Sheriff Daron Hall
Davidson County Sheriff's Office
Nashville, TN
Daron Hall was elected to his sixth term as Davidson County sheriff in 2022. He made Nashville history by being the youngest person ever elected to the office and the longest serving. Sheriff Hall has made arresting the problem, not the person, a focus. He designed and implemented the first-of-its-kind Behavioral Care Center, a diversion program aimed at decriminalizing mental illness.
Sheriff Hall was elected as president of two national associations. The only Tennessee sheriff to serve as president of the National Sheriffs' Association. He was also elected the 101st president of the American Correctional Association. Hall has won numerous awards including the prestigious E. R. Cass Award – the highest honor given in the corrections profession.
After 35 years of criminal justice experience, Sheriff Hall is seen as an expert in the field. He has been interviewed by national and international media outlets including the Wall Street Journal, the British Broadcasting Corporation, NPR, the New York Times, Fox News, CNN, and Fortune Magazine.